SPACE FOR AG: NASA WORKS TO ENSURE FOOD SECURITY
When you think about NASA, the first things that come to mind might be Mars rovers or the recently launched James Webb Space Telescope. The planet NASA studies the most, however, is our own: Earth.
Our planet was the focus of Apollo 8 astronaut William Anders' photo of the earthrise from the moon in 1968. "That was really the first time people realized, 'Oh, we can see — and study — our home planet from space,'" says Karen St. Germain, director of NASA's Earth Science division. "That unique vantage point of space gives us a global understanding."
"This is obvious if you think about it, because NASA's mission is about the betterment of mankind and everyone we know, and everyone we love, is right here on this planet," says St. Germain. "Understanding how this planet works and helping people make better, informed decisions is really what we're about in Earth Science."
This includes agriculture.
NASA's missions capture all aspects of the planet: the oceans, land, ice, and atmosphere. Through these observations, NASA has noted changes in the water cycle, which have led to changes in the carbon cycle and, in turn, to agriculture.
Scientists have measured the energy entering and leaving the Earth's system and noted an imbalance, with significantly less energy now leaving than entering. More than 90% of this energy is being absorbed by the oceans, and transported all around the world, says St. Germain. These changes in energy are then manifested in more intense drought, flooding, or other severe weather events.
FARMING FROM SPACE
Farmers may be most familiar with NASA's agricultural contributions via the National Oceanic and Atmospheric Administration (NOAA), which collaborates with the National Drought Mitigation Center (NDMC) at the University of Nebraska-Lincoln (UNL) and the U.S. Department of Agriculture to produce the U.S. Drought Monitor.
Much data that feeds the Drought Monitor comes from satellites. Two active satellite missions measure minute changes in the Earth's gravitational pull right below the satellite. The pull is dependent on how much mass is right below the satellite, which changes based on how much water is in the soil — on the surface, in the root zone, or in the aquifers. Where there's less water, there's less mass, meaning less gravitational pull.
In addition to the Drought Monitor, NASA participates in other applications for producers.
The NASA Harvest program offers precision nutrient management tools as part of its mission to "benefit food security, agriculture, and human and environmental resiliency in the U.S. and worldwide."
OpenET uses satellite data to provide estimates of evapotranspiration (ET) for water management across the United States. OpenET generates daily, monthly, and annual estimates at the field scale, and it provides access to weather and vegetation conditions. Farmers can use this data during irrigation to reduce costs for fertilizer and water, as well as to help support groundwater management programs that require consistent and accurate ET data.
The Crop Condition and Soil Moisture Analytics Tool (Crop-CASMA) is a web-based application developed in partnership with the USDA to map soil moisture and crop vegetation conditions across the country. The tool is designed to help farmers during spring planting, to track damage after natural disasters, and to monitor crop health. Users of Crop-CASMA can select an area and create a map as a PDF, as well as download data to input into their own models.
FORECASTED YIELD LOSS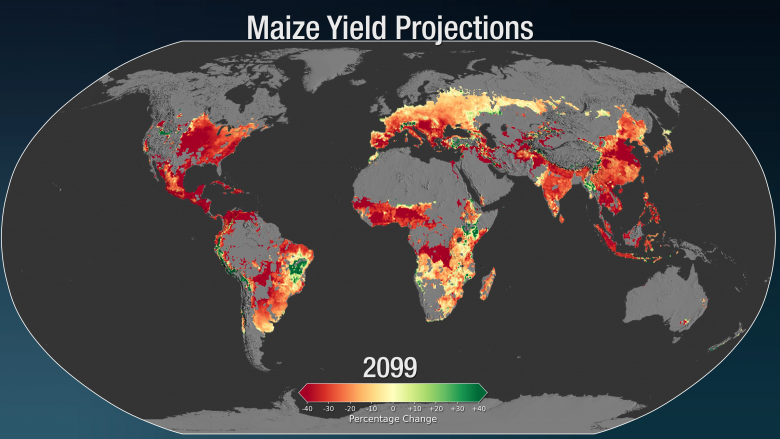 NASA's Earth Science division has also made long-term crop projections based on the data gathered. If current climate change trends continue, global crop yields for maize, or corn, may see a decrease of 24% by the end of the century. This forecast is based on the projected increases in temperature, shifts in rainfall patterns, and elevated surface carbon dioxide concentrations due to human-caused greenhouse gas emissions.
This projection was run under the assumption current corn genotypes and management practices hold the same through the remainder of the century.
"Producers are already making adjustments and that of course will continue," says St. Germain. "One of the things the tool lets us do is show what crops — under what conditions — will likely see stress the soonest given what's going on globally."
All of NASA's collected data is open to the public and freely available.
BACK DOWN TO EARTH
Brandon Hunnicutt farms alongside his father, Daryl, and brother, Zach, near Giltner, Nebraska, and serves as a member on the Corn Board of the National Corn Growers Association. They started working with UNL on very early stages of soil moisture monitoring systems with stationary probes. They found this method challenging as soil types vary throughout their fields, and even as they've added more data points, the probes couldn't accurately observe the entire field.
"So we started looking at what's the next step we need to do?" says Hunnicutt. "That being able to more accurately monitor — maybe through this satellite data — so we can say, 'This farm as a whole is OK.'"
Hunnicutt says satellite data from programs like NASA's may help make decisions for how much water, fertilizer, or fungicide to use.
"We're always trying to figure out what's the next big thing for yield," says Hunnicutt. "What is the next big thing to bring more value back to the farm? All these things are fascinating because it's that next stage."
ONE SMALL STEP FOR AG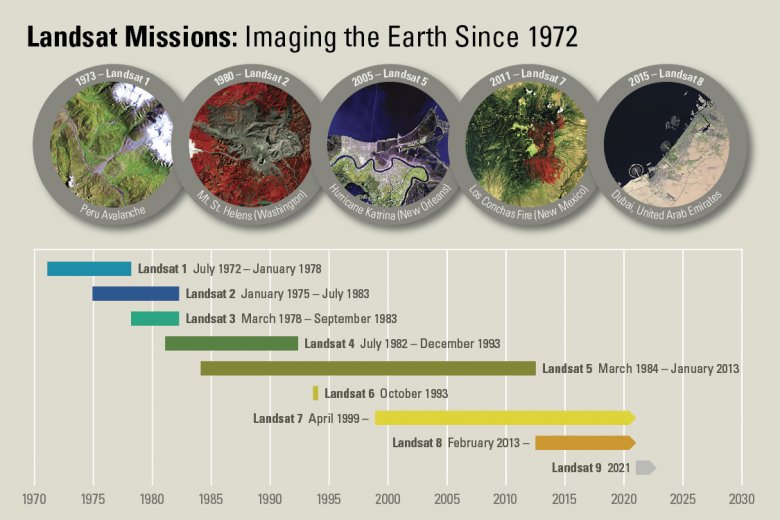 The Earth Science division at NASA has launched a wide variety of missions in the past 25 years. About 25 satellites or space-based missions currently are observing the Earth, and another 10 missions are in the works, with even more being planned.
Around the same time as the earthrise photo and Apollo 8 mission, the Landsat mission was developed in partnership with the U.S. Geological Survey (USGS). The Landsat 1 satellite was launched in July 1972. This satellite orbited the Earth multiple times a day and completed a full image capture of the planet after 251 orbits — about 16 days, according to USGS.
The various Landsat missions have provided 50 years of uninterrupted coverage of the Earth.
Landsat 9 was launched in late September 2021 as a continuity mission to maintain increased coverage for the program. In any given location, a lot can change in the 16 days between satellite passes. Adding just one more satellite decreases the period between passes to just eight days. Landsat 9 is currently orbiting the Earth in tandem with Landsat 8, which launched in 2013. Landsat 7, which launched in 1999, completed its mission when operations ended in September of this year.
Where Landsat 9 was a continuity mission, Landsat Next is an update to the program designed to better monitor, understand, and predict changes to the world's land surfaces, including farmland. Landsat Next will have higher spatial resolution and higher spectral imaging bands.
Where Landsat 8 and 9 are capable of observing 11 spectral bands — wavelengths of light — Next can observe 25. This will help it better detect surface temperature, water quality, soil quality, and more.
Landsat Next is on target to launch in 2029 or 2030.